Coming March 2022…
Great or Nothing, a Little Women retelling co-authored with Tess Sharpe, Caroline Tung Richmond, and Jessica Spotswood
"GREAT OR NOTHING is the kind of book that makes you want to light the fire and fill the teapot, because you won't be going anywhere for a while. A reimagined LITTLE WOMEN set in the turmoil of World War II, each March sister copes with the death of their beloved Beth in their own way. Poignant, clever, and heartfelt, this story pulls at the complicated tapestry that is family, and finds certain bonds are unbreakable."—Stacey Lee, NY Times bestselling author of Reese's Book Club pick, THE DOWNSTAIRS GIRL
In the fall of 1942, the United States is still reeling from the attack on Pearl Harbor. While the US starts sending troops to the front, the March family of Concord, Massachusetts grieves their own enormous loss: the death of their daughter, Beth.

Under the strain of their grief, Beth's remaining sisters fracture, each going their own way with Jo nursing her wounds and building planes in Connecticut, Meg holding down the home front with Marmee, and Amy living a secret life as a Red Cross volunteer in London–the same city where one Mr. Theodore Laurence is stationed as an army pilot.

Each March sister's point of view is written by a separate author, three in prose and Beth's in verse, still holding the family together from beyond the grave. Woven together, these threads tell a story of finding one's way in a world undergoing catastrophic change.
Third Place Books | Barnes & Noble | IndieBound | Bookshop | Book Depository | Goodreads
We Are the Ashes, We Are the Fire
From the author of the acclaimed Blood Water Paint, a new contemporary YA novel in prose and verse about a girl struggling with guilt and a desire for revenge after her sister's rapist escapes with no prison time.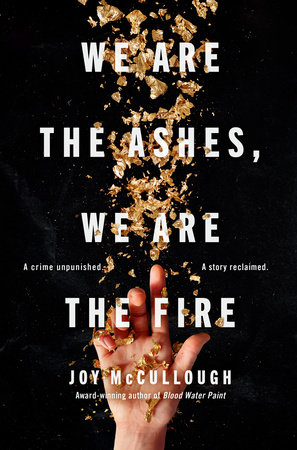 "What is art if not a sword? With We Are the Ashes, We Are the Fire, Joy McCullough wields and strikes her sharp-edged, finely honed blade. A fierce beauty."—Elana K. Arnold, Printz Honoree and National Book Award Finalist
"Intense, unrelenting, and inspiring."—Kirkus, starred review
"McCullough emphatically confronts the toll that sexual violence takes and deftly questions who gets to control history's narrative."—PW, starred review
"Unforgettable…a must-read."—SLC, starred Review
"Ferociously honest, unequivocally feminist. Appreciators of Elana K. Arnold's Red Hood or Courtney Summers' Sadie should pick up this title immediately."—Shelf Awareness

"McCullough borrows judiciously from the headlines and readers will find her story all the more affecting because of its seemingly eternal relevance."—Booklist, starred review
Em Morales's older sister was raped by another student after a frat party. A jury eventually found the rapist guilty on all counts–a remarkable verdict that Em felt more than a little responsible for, since she was her sister's strongest advocate on social media during the trial. Her passion and outspokenness helped dissuade the DA from settling for a plea deal. Em's family would have real justice.
But the victory is short-lived. In a matter of minutes, justice vanishes as the judge turns the Morales family's world upside down again by sentencing the rapist to no prison time. While her family is stunned, Em is literally sick with rage and guilt. To make matters worse, a news clip of her saying that the sentence makes her want to learn "how to use a sword" goes viral.
From this low point, Em must find a new reason to go on and help her family heal, and she finds it in the unlikely form of the story of a fifteenth-century French noblewoman, Marguerite de Bressieux, who is legendary as an avenging knight for rape victims.
We Are the Ashes, We Are the Fire is a searing and nuanced portrait of a young woman torn between a persistent desire for revenge and a burning need for hope. 
Third Place Books | Barnes & Noble | IndieBound | Bookshop | Book Depository | Goodreads
Blood Water Paint
A stunning debut novel based on the true story of the iconic painter, Artemisia Gentileschi.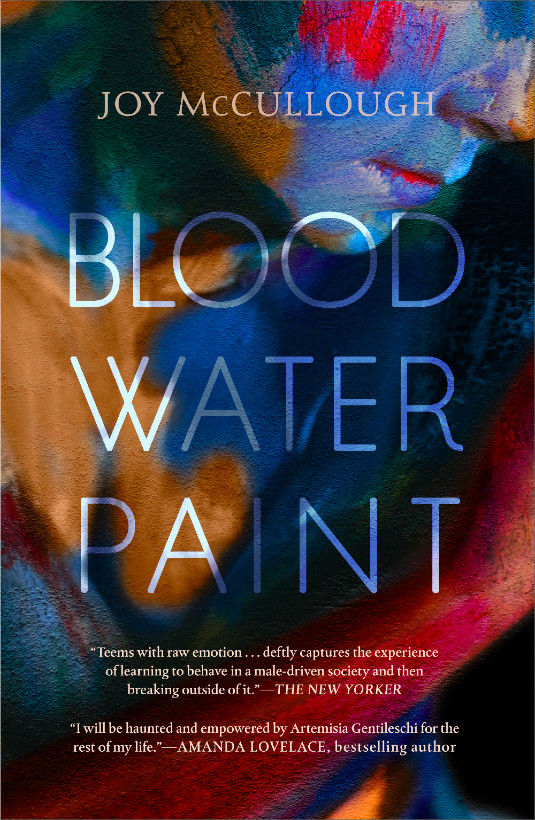 National Book Award for Young People's Literature, long list
ALA Morris Award, finalist
Washington State Book Award for Young Adult Literature 2019
Pacific Northwest Booksellers Association 2019 Book Award
A Publishers Weekly Flying Start
Starred reviews from School Library Journal, Booklist, Publisher's Weekly, and Shelf Awareness
Junior Library Guild Selection
Indie Next Spring 2018 pick
Booklist Editor's Choice Top of the List 2018
Boston Globe Best Books of 2018
Book Page Best of 2018
Bustle Best of 2018
Chicago Public Library Best of the Best 2018
Globe and Mail 100: Favourite Books of 2018
School Library Journal Best of 2018
Shelf Awareness 2018 Best Children's & Teen Books of the Year
Texas Tayshas Reading List
YALSA Best Fiction for Young Adults 2019
Her mother died when she was twelve, and suddenly Artemisia Gentileschi had a stark choice: a life as a nun in a convent or a life grinding pigment for her father's paint.
She chose paint.
By the time she was seventeen, Artemisia did more than grind pigment. She was one of Rome's most talented painters, even if no one knew her name. But Rome in 1610 was a city where men took what they wanted from women, and in the aftermath of rape Artemisia faced another terrible choice: a life of silence or a life of truth, no matter the cost.
I will show you
what a woman can do.
Third Place Books | Barnes & Noble | IndieBound | Bookshop | Book Depository | Goodreads
A Reader's Guide to Blood Water Paint
Praise for Blood Water Paint:
"An impassioned, lushly described account of a young woman who refuses to dwell in secret shame. Blood Water Paint fits smoothly into the current conversation surrounding the #MeToo movement."—Chicago Tribune
"Coming out of the novel, I knew I would be haunted and empowered by Artemisia's story for the rest of my life."—Amanda Lovelace, bestselling author of the princess saves herself in this one
"Tragically relevant and unflinchingly feminist, Blood Water Paint is the kind of book all historical fiction should aspire to be."—Mackenzi Lee, New York Times bestselling author of The Gentleman's Guide to Vice and Virtue
★"McCullough has managed to vividly capture a singularly brave, resilient feminist who became an icon during a time when women had almost no agency. Her story and the stunning verse through which it is told will resonate just as strongly with readers today. A captivating and impressive debut about a timeless heroine." —Booklist, starred review
★"McCullough's beautifully crafted text will inspire upper-middle/high school readers to research the true story upon which this powerful piece of historical fiction is based. The poetry is clear and revelatory, exploring Artemisia's passion for both art and life. The expression of her intense feelings is gripping and her complexity of character make her a force to be reckoned with, both in her times and in ours. VERDICT: A thrilling portrait of a woman of character who refused to be dismissed; this belongs on every YA shelf."—School Library Journal, starred review
★"A haunting, stirring depiction of an unforgettable woman, Artemisia's story will resonate deeply with readers today and beyond."—Publishers Weekly,starred review
★"Luminous."—Shelf Awareness, starred review
"A visceral reminder that women have suffered and stood strong throughout time."—Mindy McGinnis, award-winning author of The Female of the Species.
"Both a grave reminder of how little has changed and a hopeful testament to how much more we might achieve, McCullough's debut is a must read."—Gae Polisner, author of The Memory of Things
"Blood Water Paint is a deftly layered portrait, at once intimate and universal."—Melanie Crowder, author of Audacity

"McCullough's stunning, immersive debut tells a timely story that's sure to stay with you long after you finish."—Buzzfeed
"[An] incandescent retelling both timeless and, alas, all too timely."—Kirkus
"[W]ill resonate with modern feminists."—BookPage
"McCullough's debut novel is one of a kind. … [A] truly inspiring and impactful story."—Romatic Times
"Filled with hope and an important message that women's voices cannot be silenced."—Book Riot
"For lovers of writers like Laurie Halse Anderson and An Na, Blood Water Paint is feminist historical fiction written in verse, giving readers a glimpse into the teen's most intimate thoughts while highlighting a centuries-old, yet startlingly familiar time and place where men took what they wanted from women with practically no consequences."—Bustle
"This intensely passionate and powerful exploration of women's lives, stories, truths, and power is a masterpiece." —Teen Librarian Toolbox